Louis L'Amour's COMPLETE First Novel
NO TRAVELER RETURNS
RESERVE YOUR COPY NOW!
Delivery Nov 20th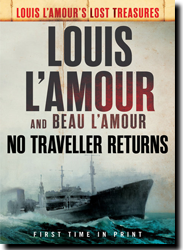 S.S. Lichenfield
Fate is a Ship ... As the shadows of World War II gather, the SS Lichenfield is westbound across the Pacific carrying eighty thousand barrels of highly explosive naphtha. The cargo alone makes the journey perilous, with the entire crew aware that one careless moment could lead to disaster.

But yet another sort of peril haunts the Lichenfield. Even beyond their day-to-day existence, the lives of the crew are mysteriously intertwined. Though each has his own history, dreams and jealousies, longing and rage, all are connected by a deadly web of chance and circumstance.

Some are desperately fleeing the past; others chase an unknown destiny. A few are driven by the desire for adventure, while their shipmates cling to the Lichenfield as their only true home. In their hearts, these men, as well as the women and children they have left behind, carry the seeds of salvation or destruction. And all of them - kind or cruel, strong or broken - are bound to the fate of the vessel that carries them toward an ever-darkening horizon.

Inspired by Louis L'Amour's own experiences as a merchant seaman, No Traveller Returns is a revelatory work by a world-renowned author - and a brilliant illustration of a writer discovering his literary voice.

On Sale 11/20/2018

"No Traveler Returns" has the distinction of being the earliest novel length work by Louis L'Amour. The first indication that he was working on this book is in a journal entry from June 9th, 1938. He mentions that he intends to "finish 'No Traveller Returns' tomorrow."
It was a time when several different versions of Louis's professional and creative life were colliding. He was writing the semi-autobiographical "Yondering" style stories, of which "No Traveller Returns" is one, and he was promoting himself as a character similar to the protagonists found within their pages: a self educated yet blue collar adventurer and world traveler. He was making a name for himself in the Oklahoma poetry scene and other literary circles. And, much more important, he had just begun selling material to the pulps, high adventure and crime stories, that were more visceral and melodramatic than his other work. He rationed his time between one style and another, hoping more than anything, that both would take off.
. . . Beau L'Amour

Louis L'Amour's Lost Treasures
Volume Two - Coming in 2019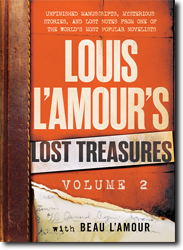 In Louis L'Amour's Lost Treasures Volume Two, Beau L'Amour presents an additional twenty-one of his father's previously unpublished, and often incomplete, manuscripts. Volume Two examines the times in which L'Amour was experimenting with some of the most important elements of his Talon and Chantry novels, as well as a Science Fiction story about catastrophic climate change, seventeen chapters of an Adventure novel set in 1960s China and Tibet, plus five complete treatments and short stories. Exploring the family history through personal recollections, letters and diaries, Beau L'Amour explains how these and other tales draw back a curtain to reveal the details of his father's most personal creative experiences.
Once again we find Louis working to expand his repertoire beyond that of the American West while at the same time satisfy his loyal fans. Lost Treasures Volume Two contains the beginning of a novel about a mountain man hunted by the murderous agents of the Hudson's Bay company as he attempts to find his long lost Native American son ... a son who, unbeknownst to him is in pursuit along with the company's trackers. There is also a spooky tale of a wandering gunslinger who happens across the wilderness estate of a mysterious slave owner attempting to maintain his way of life years after the Civil War as well as the beginning to the Western novel that may have been an inspiration for Louis's autobiographical short story collection, Yondering. The final selection is the first ten chapters of the novel L'Amour was writing on his deathbed, a Western Mystery that was a sequel to Borden Chantry.
Illustrated with personal photographs and copies of handwritten notes, the Lost Treasures books reveal the Louis L'Amour unseen by the world, both in his personal struggles as a writer and in the contest between mortality and a literary legacy too big for one life to contain.
Louis L'Amour's Lost Treasures Volume Two:
Table of Contents
What is Louis L'Amour's Lost Treasures?
Lost Treasures Volume Two Introduction by Beau L'Amour
1. The Bastard of Brignogan: Two Beginnings to a Historical Novel
2. Mac Ross: The Beginning of a Western Novel
3. Dam and Timber: Notes for an Adventure Story
4. The Quest for the Bear: A Complete Adventure Story
5. Kills Bear: The Beginning of a Frontier Novel
6. Ben Mallory: Seventeen Chapters of an Adventure Novel
7. The Death of Peter Talon: The Beginning of a Western Novel
8. The Jade Eaters: A Treatment for a Motion Picture
9. The Freeze: The Beginning of a Science Fiction Story
10. Ben Milo: The Beginning of a Crime Story
11. In The Measure Of Time: A Complete Adventure Story
12. The Papago Kid: The Beginning of a Western Novel
13. Krak des Chevaliers: A Treatment for an Adventure Story
14. Ibn Batuta: A Proposal for a Non Fiction Book
15. Shanty: Two Beginnings to a Western Novel
16. Krag Moran: The Beginning of a Boxing Story
17. STAN DUVAL: The Beginning of a Crime Story
18. Lowie: The Beginning of a Western Story
19. South of Panama: A Treatment for an Adventure Story
20. The Rock Man: Notes for a Television Series
21. Borden Chantry II: Ten Chapters of a Western Novel